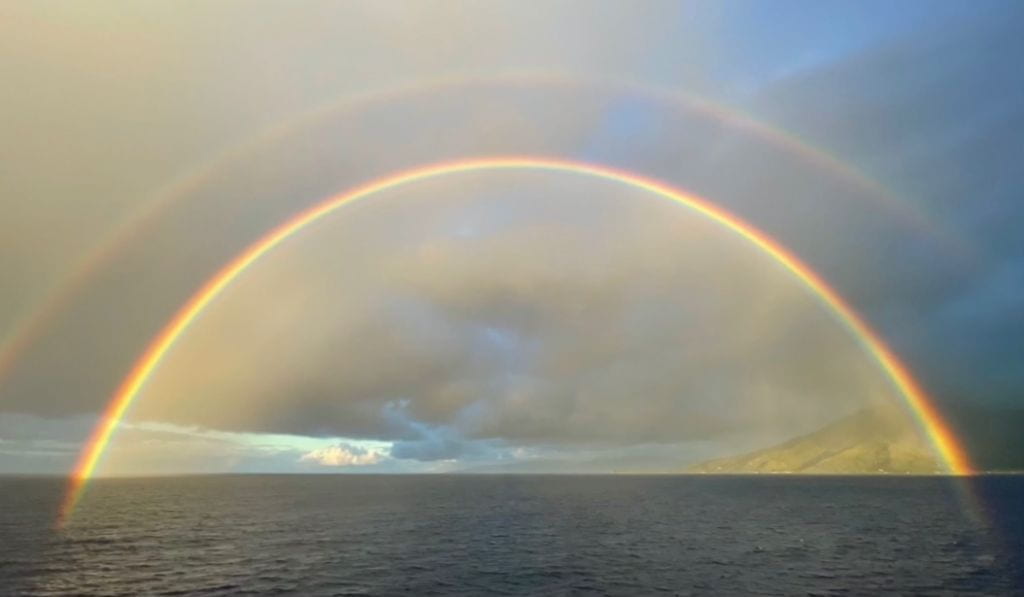 Why are there two rainbows? Why is one lighter than the other? How far apart are they?
Why is it darker above the rainbow? Why does red and yellow seem wider than the other colors in the spectrum?
My brother recently traveled to the South Pacific and captured this photo. I know that asking meaningful questions leads to learning, so my goal is to stop and ponder at natural phenomena because I desire to be a lifelong learner. Questions breed more questions which drives thinking.
When your child asks a question, he/she is taking an active role in his/her own education and developing critical thinking and communication skills. As they seek and process information, new schema are formed which are frameworks or concepts that help us to organize and interpret information. Inquiry-based learning is compelling and empowers the learner!
Sadly, research shows that children ask less questions as they grow older. Albert Einstein believed that asking thoughtful questions was critical to learning. "The important thing is to not stop questioning. Never lose a holy curiosity." Both the Engineer Design Process and the Scientific Method begin with, Make an Observation/Ask a Question.
So when your child comes home from school, ask him/her what questions they asked in school today and what they are still wondering. Model asking questions as you take a walk together. Encourage family members to write their questions on Post-it notes and then place them on the back of a door to create a "wonder wall".
Asking questions as you read is also a powerful comprehension strategy because the reader actively engages with the text. What was the character's motivation? Would you have responded in the same way? How would changing the setting (where and when a story occurs) impact the story? Would you have ended the story in the same manner? Which character would you want as a friend? Why? You can ask your child these questions even if you haven't read the book yourself.
Click here to read Reading Recovery's blog post about asking questions to increase comprehension.
Genius is seeing what everyone else sees and thinking what no-one else has thought.
Albert Szent-Gyorgy