My second grade class completed this writing project in 2014. Today's snow in Georgia motivated me to repost. We haven't had measurable snow here since 2018!
I've added these additional two stories for background information. Click here for an animated version of The Snowy Day. Click here for Snow Day!
Original Post:
We recently completed a project that we took through the writing process-prewriting, rough draft, revise and edit, final draft, and publish. Our final drafts are displayed in the hall, and we have received many compliments!
Prewriting:  We read There's No Day Like a Snow Day, and afterwards listed activities we could do if we had a snow day.
We wrote our rough drafts using a sticky note graphic organizer. This system allowed us to easily rearrange our sentences during the revising process. I instructed the children to write a paragraph with a main idea, supporting details, and a closing sentence. Then, we listed ways we could make our writing more interesting-varying sentence length, beginning sentences in a variety of ways, including figurative language (alliteration, similes, or onomatopoeia), descriptive words, and greater detail. One of my goals was for them to use transition words, such as first, next, later, afterwards, and finally.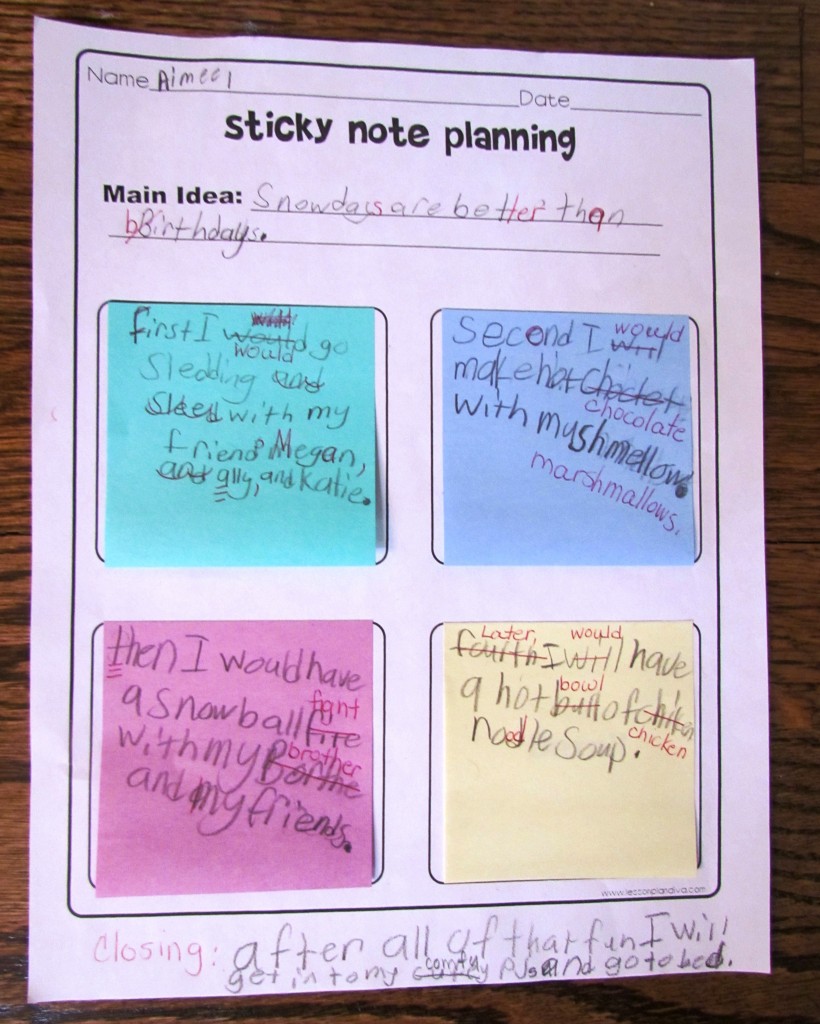 Then I met individually with each child to help them revise (clarity, language, and sequence) and edit (punctuation, capitalization, and spelling) his/her rough draft. We copied our rough drafts in paragraph form. We are learning to indent the beginning of a paragraph.
Finally, each child made a snow setting and glued a picture of him/her into it. I took these pictures during our blizzard dress down day.
This was a lot of work, but the final products and the skills the children mastered made it well worth the effort!