One of the joys of summer is having more time to read. My reading this summer can be divided into three groups:  Bible study, professional growth, and fun reads. A love for reading and life-long learning are values I want to share and model for my students.
Bible Study:  I am part of a women's neighborhood Bible study. The group meets in the morning during the school year, so I cherish the opportunity to study with friends and neighbors each summer. The study is led by a KRCS parent. This summer, we are studying Becoming More Than a Good Bible Study Girl by Lysa Terkeurst. I've enjoyed her insights. She has a blog and is a leader of the Proverbs 31 Ministry.

Click here to go to Proverbs 31 Ministry
Professionally, I've read The Daily 5 and The Cafe Book by Gail Boushey and Joan Moser. I am participating in an online book study as I read these books about developing children's literacy. Looking forward to applying these ideas in my classroom this year.
I have just begun reading Rafe Esquith's Teach Like Your Hair's On Fire. Lots of ideas for parents and teachers to ponder.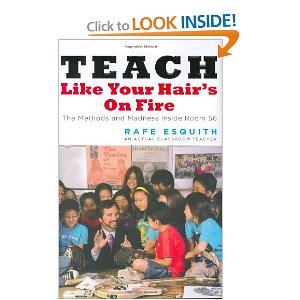 Fun Read:  I just finished Sea Change by Karen White. Karen is part of our KRCS family and I taught both of her children. Click here to go to Karen's web site.  This is her 15th novel about Southern women.
(Click on each book for a sneak peek inside.)